When winter comes, roads are blocked by deep drifts of snow, so we need a snowplow to clear the snow. A snowplow or snow plow is specifically used for snow and ice removal to guarantee road safety. By utilizing a snowplow blade or cutting edge, a snow plow can effectively push snow and ice to the roadside, thus clearing the road surface. There are several types of snow plow blades we can use. They are manufactured from different materials and designed for working on different types of roads. Today, we'll discuss several snow plow blade types.
Carbide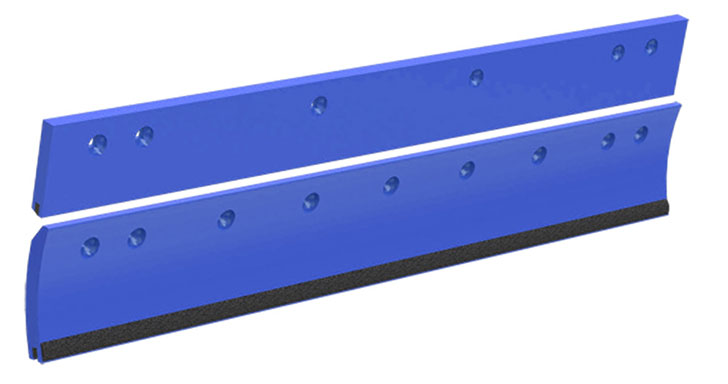 Though looking similar to a steel snow plow blade, a carbide snow plow blade comprises a steel blade and a carbide insert brazed to the steel face. Carbide cutting edges are ideal for removing ice and deep snow thanks to their sharpness. Compared to blades made of just steel, carbide snow plow blades are more expensive, but feature excellent wear resistance. As we know, tungsten carbide is an extremely hard material but can easily break, so we need a steel cover to protect the carbide insert. Besides, carbide cutting edges also have excellent corrosion resistance. Though carbide snowplow blades cost more than traditional steel cutting edges, they are much more durable and don't need to be replaced frequently.
KoneCarbide supplies a variety of carbide snowplow cutting edges for different types of snow plows.
Steel
A steel blade is the most commonly used type of snow plow blade. For most municipalities, steel snowplow blades are their first choice to remove snow and ice in winter due to low initial costs. Steel blades are ideal for removing packed snow on the roads without using salt or chemical. However, the aggressiveness of steel snow plow blades can cause road damage, and blades wear quickly, resulting in frequent blade changes.
Rubber
A rubber cutting edge is another type of snowplow blade that can be mounted on a snow plow. Rubber snow plow cutting edges are also very popular because they are flexible to use, even on the decorative pavement, and can protect the road surface from damage. When it comes to removing light, fluffy snow, a rubber blade is a perfect candidate. Besides, to meet desired specifications, it can be pre-slotted for mounting. They are often installed on a stabilization bar or a steel blade and need longer cutting-edge bolts. Since rubber is not a hard and wear-resistant material, snow plow blades made of rubber wear more quickly than steel and carbide.
Polyurethane
Featuring outstanding affordability, durability, and abrasion resistance, polyurethane snow plow blades have many advantages over metal blades. They can be used in various applications, including sidewalks, highways, driveways, etc. Polyurethane blades reach a perfect balance between long service life and minor road surface damage. In addition to excellent durability, poly blades are stiff enough to clear the snow effectively. Also, polyurethane snowplow cutting edges reduce vibrations, so they can work on uneven road surfaces and are relatively quiet during operation compared to metal blades. Similar to rubber blades, poly blades can also be pre-slotted according to requirements. Besides, if you are running a snow plow blade business, you can benefit from polyurethane snow plow cutting edges because they are more marketable.