Tungsten carbide rods are frequently used in numerous industries, thanks to their outstanding hardness, wear resistance, and stable property. Carbide rods are made from WC power with a metallic binder, usually cobalt, through a sintering process which makes carbide rods strong and durable. Carbide rods feature various types, grades, and purposes. Today, we will explain everything about tungsten carbide rods in detail. Let's start with the definition.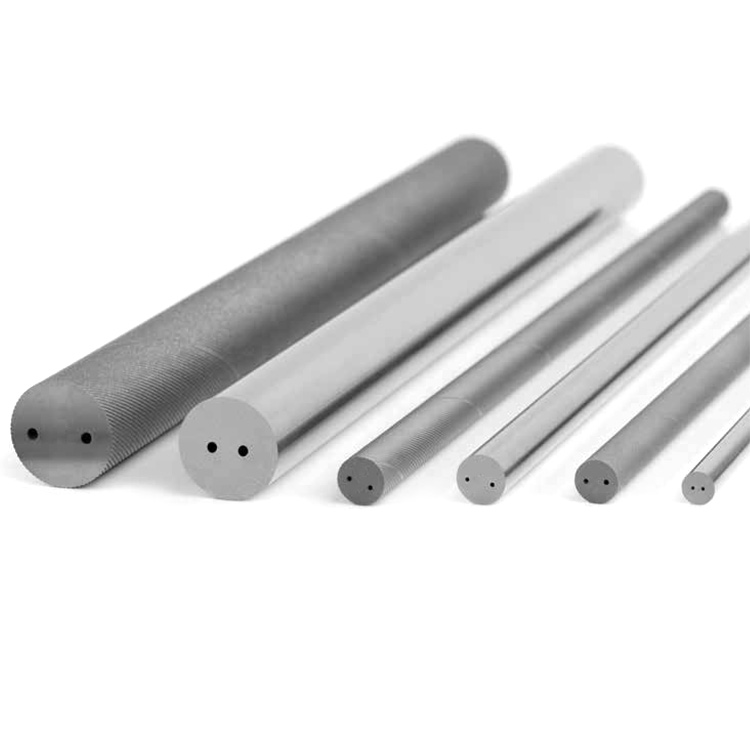 What are tungsten carbide rods?
Tungsten carbide rods, or carbide rods, are cylindrical bars manufactured from a composite material named tungsten carbide (click to find out the definition of tungsten carbide). The hardness and wear resistance of tungsten carbide makes carbide rods extremely strong and durable, thus suitable for applications where durability and high wear resistance is required, such as manufacturing, machining, mining, and construction.
Tungsten carbide rods come in different types, sizes, and grades. They are mostly applied in the manufacturing of cutting tools, including end mills, drills, and reamers.
Applications of tungsten carbide rods
Cutting tools:
Tungsten carbide rods are mainly used in the manufacturing of cutting tools, including end mills, drill bits, carbide rotary burrs, reamers, and fiberglass routers.
Mining and construction tools:
Carbide rods can also be used to make drill bits for the mining, construction, oil, and gas industries.
Wear parts:
Tungsten carbide rods are ideal for making wear parts like valves, nozzles, bearings, and other pump parts. These wear parts can effectively resist wear, abrasion, and corrosion.
Stamping and measuring tools:
Carbide rods can also be used as dies and punches for forming metal parts like bolts and screws.
Medical tools:
Medical tools require high precision and durability, so carbide rods are perfect choices for manufacturing medical tools, such as dental rotary burrs, dental drills, and other surgical instruments.
Types of tungsten carbide rods
Different types of carbide rods have their own features and are designed for specific applications. The following are some commonly used tungsten carbide rod types.
Solid carbide rods
Solid carbide rods are made completely from tungsten carbide. They are mainly used in manufacturing cutting tools, such as end mills, drill bits, and reamers.
Carbide rods with straight coolant holes
This type of carbide rod is a solid carbide rod with one or more straight coolant holes running through the center of the rods. The purposes of adding coolant holes are chip evacuation and cooling during operation. They are ideal for drill applications where cooling and chip removal are required.
Carbide rods with spiral coolant holes
Unlike the above one, this type has one or more spiral or helical coolant holes. These spiral holes can provide optimized coolant flow and heat dissipation during operation. Therefore, they are ideal for high-speed machining applications.
How to choose the right carbide rods?
It is of vital importance to select appropriate carbide rods to ensure the best possible performance and productivity in various machining operations. Selecting the proper carbide rods depends on many factors, such as the type of material being cut, cutting speed, required tool life, and required surface finish. In addition, choosing an appropriate grade is also very important. Different carbide grades are designed for specific purposes, providing different properties.
If you're still confused about how to choose the right rods for your needs, please feel free to contact us at: sales@konecarbide.com. KoneCarbide has solid experience in the manufacturing and supply of tungsten carbide rods. Our salespeople are ready to provide tailor-made solutions for you.